Pendant Light - Living Room Decoration - Molecular Design
---
Description

Nordic Art Molecular Tree Hanging Pendant Light

Do you like retro, country or vintage decoration? Bronze and black colours? Are you a science lover and do you like genetics? Then this Nordic Art Molecular Tree Hanging Light Pendant is for you!

You can create a lamp that suits you. Indeed, you can choose the colour of the body: black or gold. Smoked or plain glass. And from 3 to 9 bulbs to accentuate or not the molecular design of this lamp.

The 3-lamp design would be ideal for a quiet corner, like a living room or above the dining table. And you can go for the 9-bulb design if you have a large room with a higher light requirement.

Molecular design for science lovers
Vintage, country style, bronze or black
Different quantities of bulbs depending on the light requirement

The Nordic Art Molecular Tree Hanging Light Pendant is the perfect way to enhance the vintage or retro style of your living room. You will fall in love with it immediately!

Features:

Size: Diameter130cm H80cm, Diameter140cm H80cm, Diameter150cm H90cm, Diameter180cm H100cm, Diameter108cm H200cm

Voltage: ≤36V, The LEDs bulbs are firmly installed. The service life is 60000 hours.

Color changes: Stepless dimming belt remote control

Vintage retro country house style brings a dreamy atmosphere to your room, through the white glass lampshade your rooms are ideally lit.

This ceiling lights light color is uniform, soft light, no flash, no UV radiation, no glare, vision, packaged very safe, easy to install. can be installed as a decoration.

Suitable for all kinds of decoration. It is the perfect fixture in living room, bedroom, kitchen, dining room, dining table, hall, loft, bar, hotel, balcony, restaurant, office, cafe ect to install.

Product Packing:
Packing: 35X20X15CM
Weight: 3-5KG
 
Usage:
Suit for: Dining Room, Restaurant, Store, Shop, Market, Living Room, Gallery, Etc;

 

SPECIFICATIONS

| | |
| --- | --- |
| Brand Name |  FrissonLighting |
| Is Bulbs Included |  No |
| Origin |  CN(Origin) |
| Certification |  ROHS |
| Certification |  ce |
| Certification |  CCC |
| Technics |  Painted |
| Power Source |  AC |
| Place |  Hotel Room |
| Place |  Parlor |
| Place |  Master Bedroom |
| Place |  other bedrooms |
| Place |  Hotel Hall |
| Place |  Study |
| Installation Type |  Pipe Erected |
| Item Type |  Pendant Lights |
| Warranty |  5 YEARS |
| Material |  Glass Stone |
| Number of light sources |  3 |
| Lighting Area |  15-30square meters |
| Lampshade Color |  Green |
| Lampshade Color |  Gray |
| Lampshade Color |  Blue |
| Lampshade Color |  Champagne |
| Base Type |  E27 |
| Is Dimmable |  No |
| Finish |  iron |
| Light Source |  LED Bulbs |
| Voltage |  90-260V |
| Style |  Modern |
Shipping&Policy

Payment:

Free shipping on all orders. No minimum purchase.

We currently accept major credit cards (VISA, Mastercard, AMEX, etc) and PayPal payments.

Although you will be able to display prices in different currencies, We will still process orders in default US dollars.

A confirmation email will be sent to you once the order is authorized and verified. We begin preparing your order immediately after it is verified.

You should receive a tracking confirmation email to track the status of your order within the 3-5 business day handling time after your order has been completely processed.

Shipping:

Notice: Due to the coronavirus, we're experiencing international delivery delays in all destinations due to flight cancellations. Therefore, the delivery time might be longer than expected. We apologize for the delay. Thanks for your understanding and support.

Total Delivery Time = Handling Time + Transit Time (+ any holidays)

Handling time: 3-5 Business Days. It is the time elapsed between when the customer places the order and when the seller hands the order over to the delivery service.

Transit time: 7-14 Business Days. It is the time between when the seller hands the order over to the carrier until its delivery to the customer's address.

Shipping time is estimated and commences from the date of shipping, rather than the date of the order, and can take longer than expected date due to the invalid address, customs clearance procedures, or other causes.


Contact Us

We'd love to hear from you - please use the form to send us your message or ideas. Or you can contact us through these ways:

Call Us: +44 7405956291

Email: [email protected]

Business Address:

83 Ducie Street, Manchester, M1 2JQ ,United Kingdom

Warehouse Addresses:

Addresses of theLightzey:

United Kingdom Address: Unit 2, St Marys Industrial Park, Talbot Rd, Hyde, SK14 4HN

Belgium Address: Finlandrhett BV Add:Bredabaan 859 2930 Brasschaat, Belgium

Our business hours are from Monday - Friday from 9am to 5pm GMT except bank holidays. You will receive a response within 2 business days.

Still have a question or comment? You may find an answer in our FAQs. But you can also use the form below to send us a message:
Size: Diameter130cm H80cm, Diameter140cm H80cm, Diameter150cm H90cm, Diameter180cm H100cm, Diameter108cm H200cm
Voltage: ≤36V, The LEDs bulbs are firmly installed. The service life is 60000 hours.
Color changes: Stepless dimming belt remote control
Vintage retro country house style brings a dreamy atmosphere to your room, through the white glass lampshade your rooms are ideally lit.
This ceiling lights light color is uniform, soft light, no flash, no UV radiation, no glare, vision, packaged very safe, easy to install. can be installed as a decoration.
Suitable for all kinds of decoration. It is the perfect fixture in living room, bedroom, kitchen, dining room, dining table, hall, loft, bar, hotel, balcony, restaurant, office, cafe ect to install.
Product Packing:
Packing: 35X20X15CM
Weight: 3-5KG
 
Usage:
Suit for: Dining Room, Restaurant, Store, Shop, Market, Living Room, Gallery, Etc;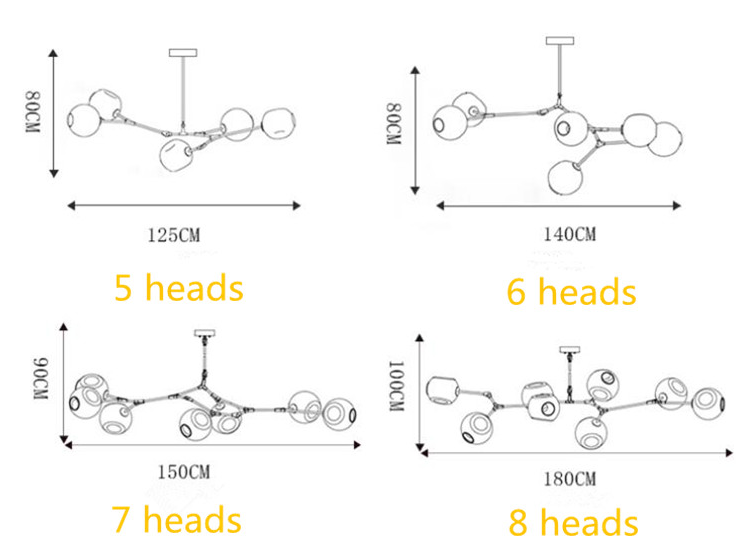 SPECIFICATIONS
| | |
| --- | --- |
| Brand Name |  FrissonLighting |
| Is Bulbs Included |  No |
| Origin |  CN(Origin) |
| Certification |  ROHS |
| Certification |  ce |
| Certification |  CCC |
| Technics |  Painted |
| Power Source |  AC |
| Place |  Hotel Room |
| Place |  Parlor |
| Place |  Master Bedroom |
| Place |  other bedrooms |
| Place |  Hotel Hall |
| Place |  Study |
| Installation Type |  Pipe Erected |
| Item Type |  Pendant Lights |
| Warranty |  5 YEARS |
| Material |  Glass Stone |
| Number of light sources |  3 |
| Lighting Area |  15-30square meters |
| Lampshade Color |  Green |
| Lampshade Color |  Gray |
| Lampshade Color |  Blue |
| Lampshade Color |  Champagne |
| Base Type |  E27 |
| Is Dimmable |  No |
| Finish |  iron |
| Light Source |  LED Bulbs |
| Voltage |  90-260V |
| Style |  Modern |
" data-product-sku="molecular-design-vintage-pendant-light" data-product-title="Pendant Light - Living Room Decoration - Molecular Design" data-product-type="">
Customer Reviews
Write a Review
Ask a Question
I bought it at a big discount. Everything works, the seller is sociable.